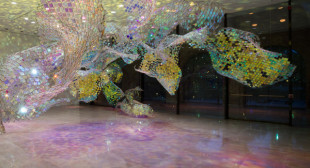 A glistening sculptural installation made up of metal chain link fencing and iridescent Plexiglas that bounces rainbows of color when light hits it.
American artist Soo Sunny Park took over Rice Gallery, part of Rice University in Houston, Texas, with a glistening, labor intensive, abstract installation called Unwoven Light. The suspended piece is made up of 37 individual units composed of chain link fencing that is arranged into a sculptural form that's all about light.
As you make your way around the space, the ever-changing rainbows of color bounce off each piece of iridescent Plexiglas that has been wired into the openings of the metal fence. The coated Plexiglas causes the light to "unweave" making each shape turn from clear to colorful as light hits them.