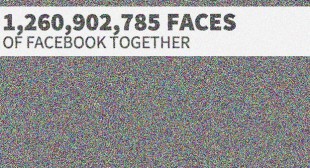 Ever wondered how all these Facebook faces, over a billion of them would look all together in one place. Wonder no more. Pretty much it's like you watching your favorite show on TV and somebody cuts the antenna. All this pixelated static fuzz that comes-up on the screen is what you get when you put your 1.2 billion Facebook buddies faces in a zoomed-out mosaic.
So, you thought you're special, with all your carefully selected party photos and religiously updated statuses, locations and affiliations? Think again! You're just one tiny tiny pixel in the sea of other mini-dots in this mega-mosaic of virtual lives.
"The Faces of Facebook" is a project by programmer Natalie Rojas. All Facebook profile photos are organized in chronological order (starting from #1 some kid by name Mark), you can hover over the pixels, zoom-in to see more detailed photo and select them by clicking to their profile (if it is set public of course). At the time of this writing site was not accessible (message appears that server had too many visits). Probably too many Facebook fans were looking for their pixel. Good luck in finding yours!